DT-Light ESP8285 Lighting Module (DMP-L1)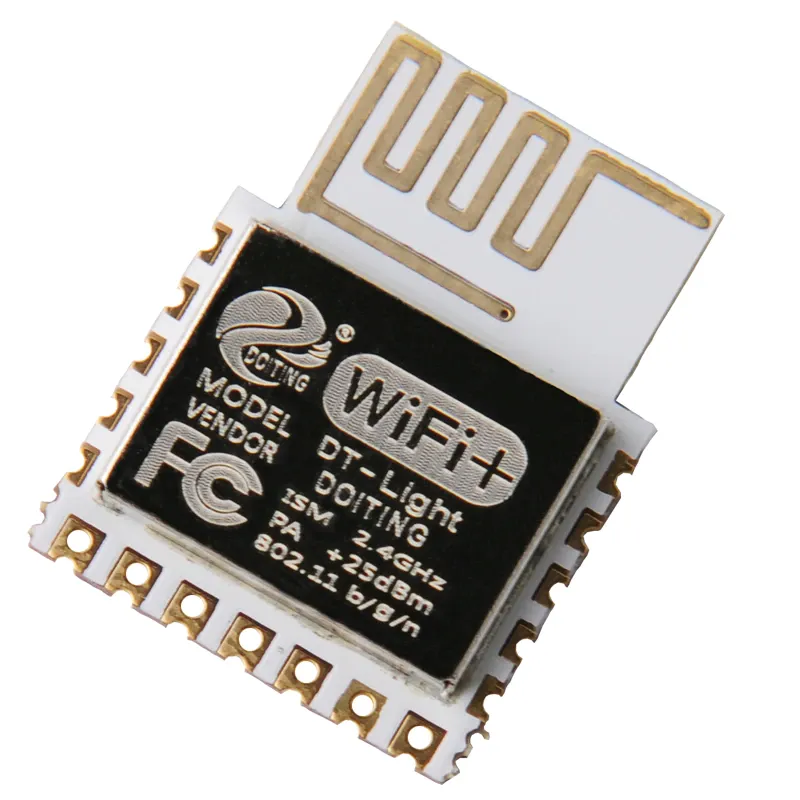 | GPIO # | Component |
| --- | --- |
| GPIO00 | User |
| GPIO01 | User |
| GPIO02 | None |
| GPIO03 | User |
| GPIO04 | User |
| GPIO05 | User |
| GPIO09 | None |
| GPIO10 | None |
| GPIO12 | User |
| GPIO13 | User |
| GPIO14 | User |
| GPIO15 | User |
| GPIO16 | User |
| GPIO17 | User |
{"NAME":"DMP-L1","GPIO":[1,1,0,1,1,1,0,0,1,1,1,1,1,1],"FLAG":0,"BASE":18}
{"NAME":"DMP-L1 Light","GPIO":[1,1,0,1,419,418,0,0,416,420,417,1,1,1],"FLAG":0,"BASE":18}
This module can replace modules such as: BW2L, CB2L, DT-BL200, TYWE2L, WB2L, WBR2L, WR2L
This module is designed for bulbs so the pinout labeling shows colors.
Module is almost pin compatible with BW2L,CB2L,DT-BL200,TYWE2L,WB2L,WBR2L,WR2L
It can still be used for any application, just like any other module. It has almost all of the GPIOs broken out (excluding GPIO2) and that includes the A0 analog GPIO.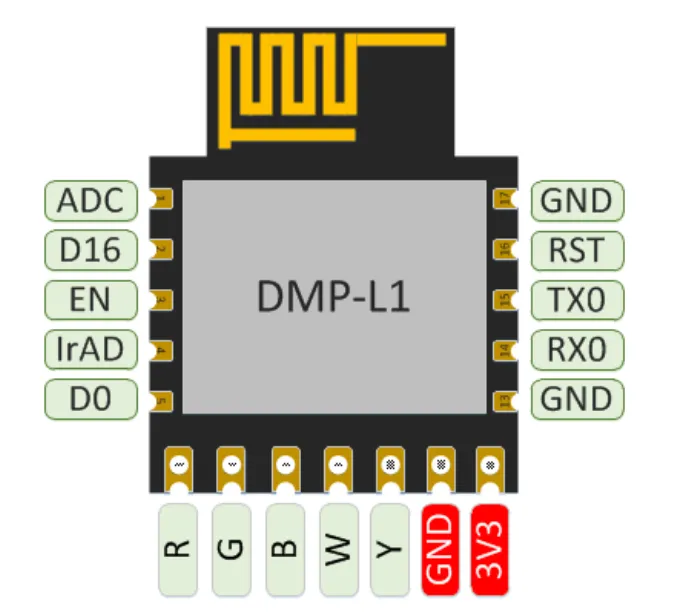 Header are too small for standard Dupont cables but breadboard wires will fit.
Pinout:
GPIO0 - D0
GPIO1 - TX0
GPIO3 - RX0
GPIO4 - W
GPIO5 - B
GPIO12 - R
GPIO13 - Y
GPIO14 - G
GPIO15 - IrDA
GPIO16 - D16
GPIO17 - ADC