DS-121 4 Gang No Neutral Switch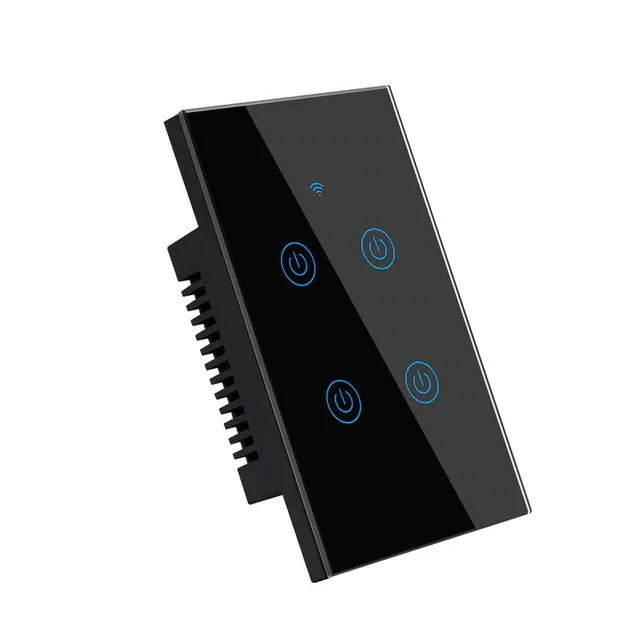 | GPIO # | Component |
| --- | --- |
| GPIO00 | LedLinki |
| GPIO01 | Led2i |
| GPIO02 | None |
| GPIO03 | Button1 |
| GPIO04 | Relay2 |
| GPIO05 | Button2 |
| GPIO09 | None |
| GPIO10 | None |
| GPIO12 | None |
| GPIO13 | Relay1 |
| GPIO14 | Led1i |
| GPIO15 | None |
| GPIO16 | None |
| FLAG | None |
Configuration (old format, will be converted to new template when applied)
{"NAME":"2 Gang Switch","GPIO":[158,57,0,17,22,18,0,0,0,21,56,0,0],"FLAG":0,"BASE":18}
Smatrul appears to be the main seller but they are also sold by Avatto (I can confirm that even 99% of the packaging is the same). Tuya convert was attempted and did not work.
Ground GPIO0 during boot. Ground RST as well. (So really that means a 3 pin splitter from GND to GPIO0 + RST + GND of Serial Flasher.)
After clicking "Start" in Tasmotizer, wait 1 second, then UN-ground RST and it will finish the operation. Or make a momentary connection just before flashing starts?
I watched the red lights of TX/RX on the Flasher, after clicking "Start" they will flash a few times, then stop briefly. This is the best time to un-ground RST. If it doesn't go bright red right away, try making a momentary connection. Multiple attempts may be needed.
The 4 Gang version of this may lack a solder point to the RST pin. A momentary connection during the flashing process may be enough.
It may not be necessary to do all this extra work. Try doing a simple 4 pin flash first.