Ai-Thinker ESP32-S2F Module (ESP-12H)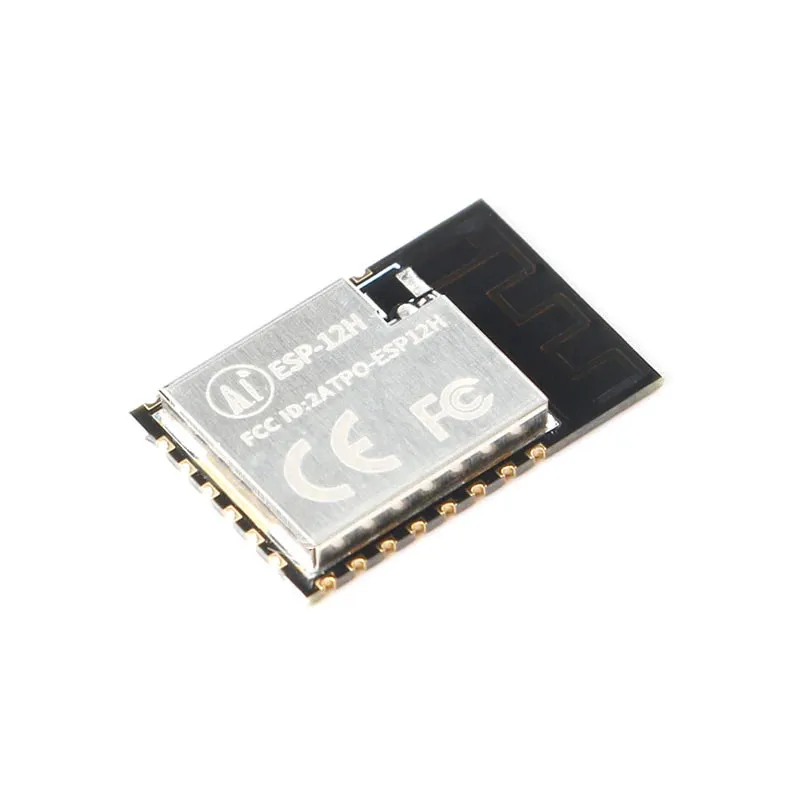 | GPIO # | Component |
| --- | --- |
| GPIO00 | User |
| GPIO01 | User |
| GPIO02 | User |
| GPIO03 | None |
| GPIO04 | None |
| GPIO05 | User |
| GPIO06 | None |
| GPIO07 | User |
| GPIO08 | User |
| GPIO09 | User |
| GPIO10 | User |
| GPIO11 | User |
| GPIO12 | User |
| GPIO13 | None |
| GPIO14 | None |
| GPIO15 | None |
| GPIO16 | None |
| GPIO17 | None |
| GPIO18 | None |
| GPIO19 | User |
| GPIO20 | User |
| GPIO21 | User |
| GPIO33 | User |
| GPIO34 | User |
| GPIO35 | None |
| GPIO36 | None |
| GPIO37 | User |
| GPIO38 | None |
| GPIO39 | None |
| GPIO40 | None |
| GPIO41 | None |
| GPIO42 | None |
| GPIO43 | User |
| GPIO44 | User |
| GPIO45 | None |
| GPIO46 | None |
Configuration for ESP32-S2
{"NAME":"ESP-12H","GPIO":[1,1,1,0,0,1,0,1,1,1,1,1,1,0,0,0,0,0,0,1,1,1,1,1,0,0,1,0,0,0,0,0,1,1,0,0],"FLAG":0,"BASE":1}
This module can replace modules such as: BT3L, CB3S, CB3L, CR3L, C-8138, ESP-12, FL_M93_V1, MRE3S, MWA04, MWA6S, T103, TYWE3L, TYWE3S, XR3, WB3, WB3L, WB3N, WB3R, WB3S, WB8, WR3, WR3E, WR3L, WR3N, ZS3L
Read my guide on replacing a compatible module.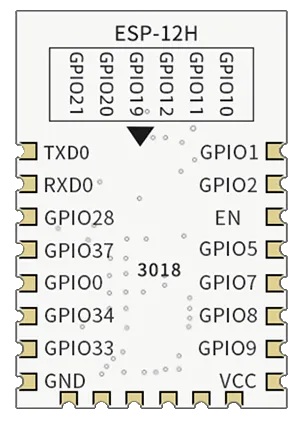 Early line of ESP-12H modules has a labelling error. IO28 is supposed to be IO29. The image above is the correct pinout.
Flashing
Flash using Tasmota Web Installer and select Tasmota ESP32-S2 option.
For esptool.py download i.e. tasmota32s2.factory.bin and run esptool.py write_flash 0x0 tasmota32s2.factory.bin
To put ESP32-S2 in flash mode GPIO0 needs to be pulled low.
You can purchase (AliExpress, Amazon, Banggood) a test board for effortless flashing.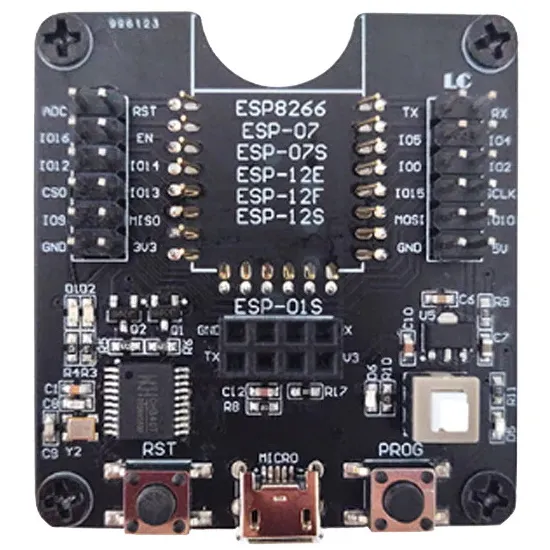 Running
ESP32's are power hungry on boot and the USB to serial adapter might not be able to provide enough power for that. Use a stable 3.3v power supply that can supply more than 500 mA.