Adafruit ESP32-S2 Feather Development Board (5303)
| GPIO # | Component |
| --- | --- |
| GPIO00 | User |
| GPIO01 | None |
| GPIO02 | None |
| GPIO03 | I2C SDA 1 |
| GPIO04 | I2C SCL 1 |
| GPIO05 | User |
| GPIO06 | User |
| GPIO07 | Output Hi |
| GPIO08 | User |
| GPIO09 | User |
| GPIO010 | User |
| GPIO011 | User |
| GPIO012 | User |
| GPIO013 | User |
| GPIO014 | User |
| GPIO015 | User |
| GPIO016 | User |
| GPIO017 | User |
| GPIO018 | User |
| GPIO019 | None |
| GPIO020 | None |
| GPIO021 | Output Hi |
| GPIO33 | WS2812 |
| GPIO34 | None |
| GPIO35 | User |
| GPIO36 | User |
| GPIO37 | User |
| GPIO38 | User |
| GPIO39 | User |
| GPIO40 | None |
| GPIO41 | None |
| GPIO42 | None |
| GPIO43 | None |
| GPIO44 | None |
| GPIO45 | None |
| GPIO46 | None |
Configuration for ESP32-S2
{"NAME":"ESP32-S2 Feather","GPIO":[1,0,0,640,608,1,1,3840,1,1,1,1,1,1,1,1,1,1,1,0,0,3840,1376,0,1,1,1,1,1,0,0,0,0,0,0,0],"FLAG":0,"BASE":1}
Flash only with ESP32-S2
tasmota32s2...
binaries.
A Feather form factor ESP32-S2 dev board with 1S LiPo battery monitoring and an optional on-board BME280 sensor.
This board uses an ESP32-S2-MINI-1-N4R2 module with 4MB of flash and 2 MB PSRAM.
Flashing
When the board is booted into debug by holding BOOT and pressing the RESET button the USB-Serial chip on the USB port exposes a serial connection. This can be used to easily flash new firmware.
For flashing via tasmota32s2.factory.bin, download the tasmota32s2.factory.bin file.
esptool.py --chip esp32s2 --baud 115200 --before default_reset --after hard_reset --erase-all -z 0x0 tasmota32s2.factory.bin

Device Notes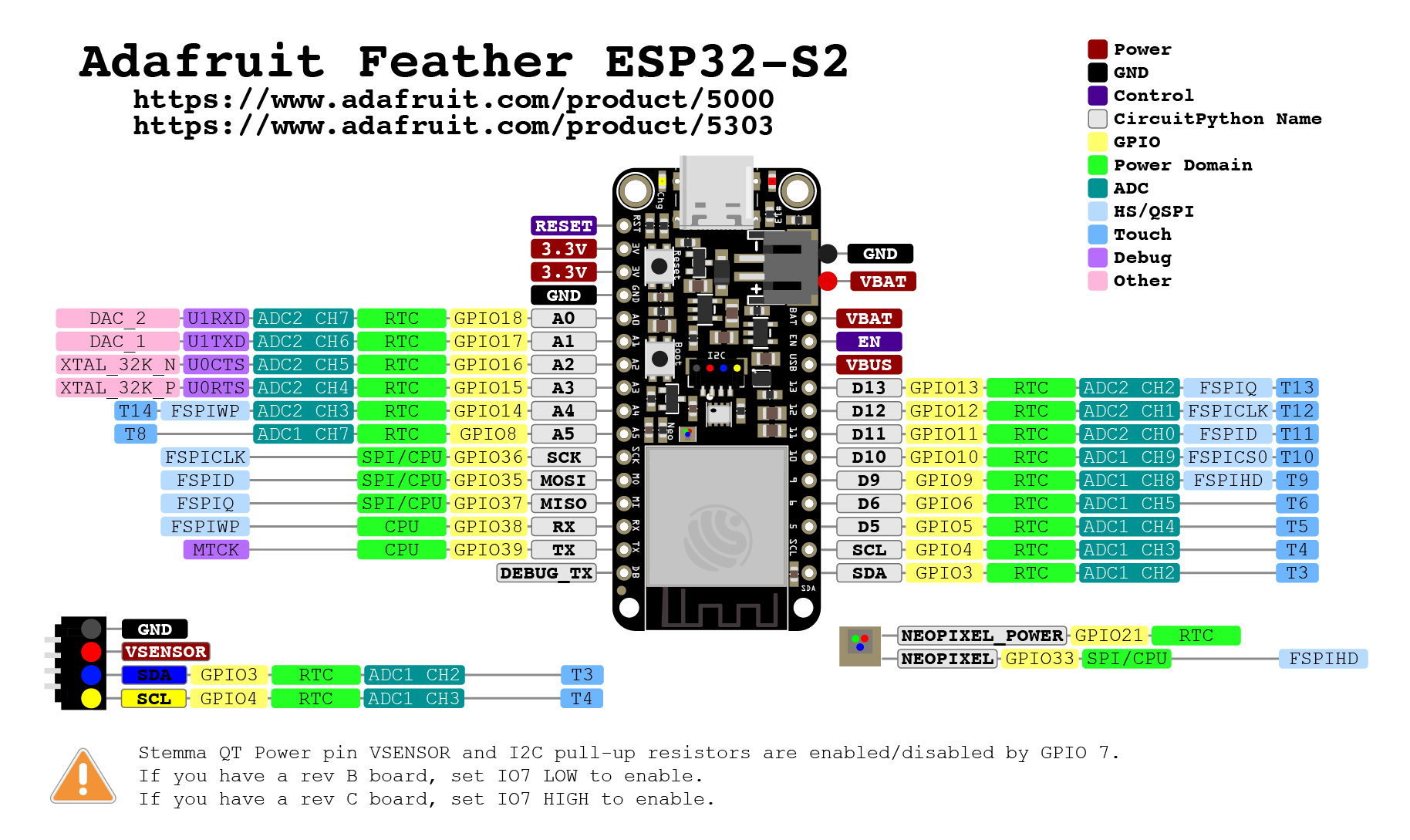 Peripherals