Adafruit MagTag 2.9" Grayscale E-Ink Display (4800)
| GPIO # | Component |
| --- | --- |
| GPIO00 | None |
| GPIO01 | WS2812 |
| GPIO02 | None |
| GPIO03 | ??? |
| GPIO04 | ADC Input |
| GPIO05 | None |
| GPIO06 | None |
| GPIO07 | None |
| GPIO08 | None |
| GPIO09 | None |
| GPIO010 | User |
| GPIO011 | Button 4 |
| GPIO012 | Button 3 |
| GPIO013 | Led 1 |
| GPIO014 | Button 2 |
| GPIO015 | Button 1 |
| GPIO016 | Output Hi |
| GPIO017 | Buzzer |
| GPIO018 | User |
| GPIO019 | None |
| GPIO020 | None |
| GPIO021 | Output Lo |
| GPIO33 | I2C SCL 1 |
| GPIO34 | I2C SCL 1 |
| GPIO35 | SSPI MOSI |
| GPIO36 | SSPI SCLK |
| GPIO37 | SSPI MISO |
| GPIO38 | None |
| GPIO39 | None |
| GPIO40 | None |
| GPIO41 | None |
| GPIO42 | None |
| GPIO43 | None |
| GPIO44 | None |
| GPIO45 | None |
| GPIO46 | None |
Configuration for ESP32-S2
{"NAME":"MagTag","GPIO":[0,1376,0,4705,4704,0,0,0,0,0,1,35,34,288,33,32,3840,480,1,0,0,3872,608,608,864,896,832,0,0,0,0,0,0,0,0,0],"FLAG":0,"BASE":1}
Flash only with ESP32-S2
tasmota32s2...
binaries.
An ESP32-S2 dev board with a 2.9" E-Paper display, various peripherals, and standard GPIO/I2C connectors for rapid prototyping.
This board uses an ESP32-S2-WROVER module with 4 MB flash and 2 MB PSRAM.
Flashing
When the board is booted into debug by holding BOOT and pressing the RESET button the USB port exposes a serial connection. This can be used to easily flash new firmware.
For flashing via tasmota32s2.factory.bin, download the tasmota32s2.factory.bin file.
esptool.py --chip esp32s2 --baud 115200 --before default_reset --after hard_reset --erase-all -z 0x0 tasmota32s2.factory.bin

Device Notes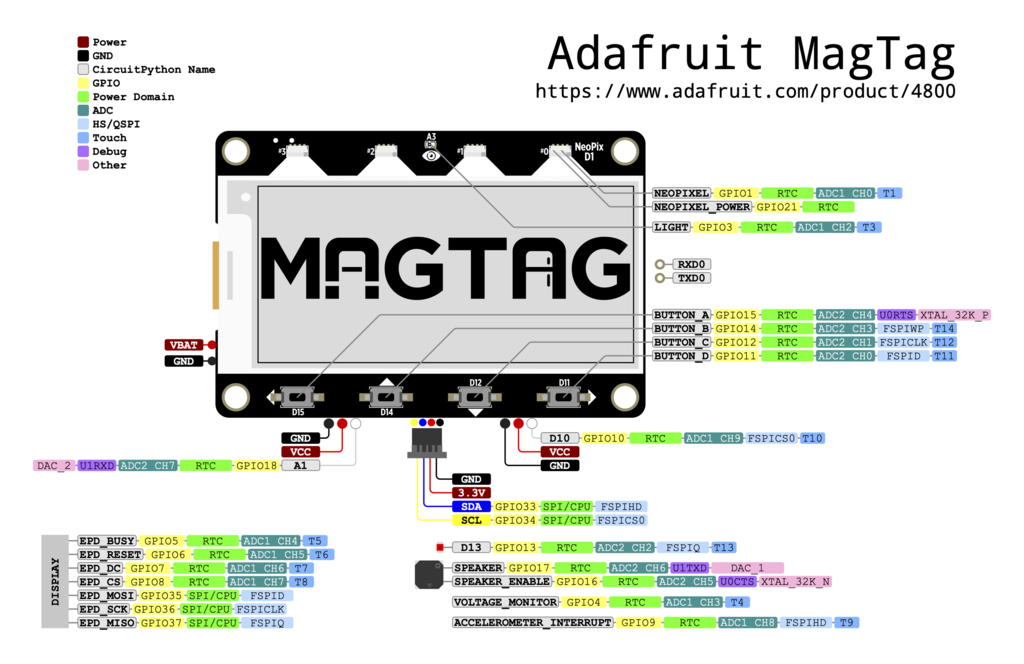 Peripherals
2.9" 291x128 SPI E-Paper Display (IL0373 controller)

Not currently supported by Tasmota

4x Front Panel User Buttons

On GPIO11-12 and GPIO14-15 (configured as Button 1-4, left to right)

4x WS2812B Neopixel

On GPIO1 (configured as WS2812) with power on GPIO21 (configured as Output Low).

Back panel red status LED

On GPIO13 (configured as LED 1)

Analog light sensor

On GPIO3 (configured as Analog 2) with power on GPIO21 (already set to Output Low for NeoPixels)

PWM-capable Buzzer

On GPIO17 (configured as Buzzer) with power/enable on GPIO16 (configured as Output Hi).
Use BuzzerPWM console command to switch to PWM mode

3-axis Accelerometer ((LIS3DH](https://www.st.com/resource/en/datasheet/lis3dh.pdf))

On I2C bus, interrupt on GPIO9 (not currently supported by Tasmota)

2x 3-pin STEMMA JST-PH GPIO connectors

On GPIO18 (A1) and GPIO10 (D10) (both configured as User for setup via module)

STEMMA-QT JST-SH I2C bus connector

Both ports share the same bus, on GPIO33 (SCL) and GPIO34 (SDA) (configured as I2C 1).

1S LiPo battery management subsystem with 2-pin JST-PH connector

Battery voltage divider on GPIO4 (configured as Analog 1)