Ai-Thinker ESP32-S2F NodeMCU Development Board (ESP-12H-Kit)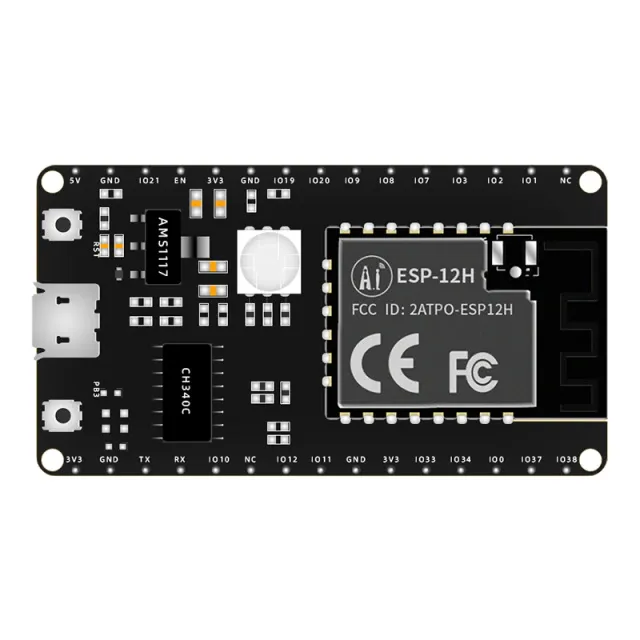 | GPIO # | Component |
| --- | --- |
| GPIO00 | Button 1 |
| GPIO01 | User |
| GPIO02 | User |
| GPIO03 | None |
| GPIO04 | None |
| GPIO05 | User |
| GPIO06 | None |
| GPIO07 | User |
| GPIO08 | User |
| GPIO09 | PWM 2 |
| GPIO010 | User |
| GPIO011 | PWM 1 |
| GPIO012 | PWM 3 |
| GPIO013 | None |
| GPIO014 | None |
| GPIO015 | None |
| GPIO016 | None |
| GPIO017 | None |
| GPIO018 | None |
| GPIO019 | User |
| GPIO020 | User |
| GPIO021 | User |
| GPIO33 | User |
| GPIO34 | User |
| GPIO35 | None |
| GPIO36 | None |
| GPIO37 | User |
| GPIO38 | User |
| GPIO39 | None |
| GPIO40 | None |
| GPIO41 | None |
| GPIO42 | None |
| GPIO43 | User |
| GPIO44 | User |
| GPIO45 | None |
| GPIO46 | None |
Configuration for ESP32-S2
{"NAME":"ESP-12H-Kit","GPIO":[32,1,1,0,0,1,0,1,1,417,1,416,418,0,0,0,0,0,0,1,1,1,1,1,0,0,1,1,0,0,0,0,1,1,0,0],"FLAG":0,"BASE":1}
Use code BLAKADDER10 when buying from mediarath.de Tasmota category for a 10% discount. Code is valid until end of 2022.
Flashing
Flash using Tasmota Web Installer and select Tasmota ESP32-S2 option.
For esptool.py download i.e. tasmota32s2.factory.bin and run esptool.py write_flash 0x0 tasmota32s2.factory.bin
To put ESP32-S2 in flash mode GPIO0 needs to be pulled low.