AZ-Envy Environmental Sensor Development Board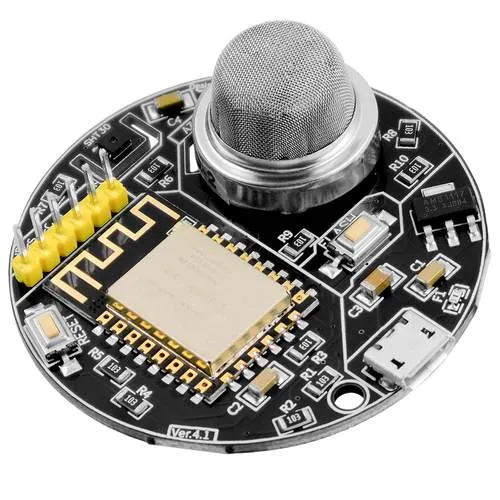 | GPIO # | Component |
| --- | --- |
| GPIO00 | Button 1 |
| GPIO01 | None |
| GPIO02 | Led_i 1 |
| GPIO03 | None |
| GPIO04 | I2C SDA 1 |
| GPIO05 | I2C SCL 1 |
| GPIO09 | None |
| GPIO10 | None |
| GPIO12 | None |
| GPIO13 | None |
| GPIO14 | None |
| GPIO15 | None |
| GPIO16 | None |
| GPIO17 | ADC Input 1 |
{"NAME":"AZ Envy","GPIO":[32,0,320,0,640,608,0,0,0,0,0,0,0,4704],"FLAG":0,"BASE":18}
USB power and FTDI needs to be connected simultaneously to flash device. Press FLASH and RESET and release RESET to initiate flash. You have to flash tasmota-sensors.bin to use the SHT sensor.
Three jumper cables (female-female) for TX, RX and GND. The connectors DTR, CTS and VCC are not used. A special feature: Because the labelling was done in the same order as the FTDI, TX is connected to TX and RX to RX; not crosswise as usual with the UART interface!
Please be aware that the temperature and humidity sensor is located near the heated gas sensor. It is a nice board to play around but do not expect any usable temperature or humidity readings, since these a highly influenced by the heated gas sensor.