BlitzWolf BW-LT11 LED Strip
| GPIO # | Component |
| --- | --- |
| GPIO00 | Button1 |
| GPIO01 | None |
| GPIO02 | None |
| GPIO03 | None |
| GPIO04 | PWM1 |
| GPIO05 | PWM4 |
| GPIO09 | None |
| GPIO10 | None |
| GPIO12 | PWM2 |
| GPIO13 | None |
| GPIO14 | PWM3 |
| GPIO15 | None |
| GPIO16 | None |
| FLAG | None |
Configuration (old format, will be converted to new template when applied)
{"NAME":"BW-LT11 Strip","GPIO":[17,0,0,0,37,40,0,0,38,0,39,0,0],"FLAG":0,"BASE":18}
Serial Flashing
Please see the Hardware Preparation page for general instructions.
The TYWE3S Datasheet you can find directly at tuya TYWE3S Module Datasheet
As always, you need to access the serial interface. The five serial pins (VCC, Rx, Tx, GND, GPIO0) are only available directly on the TYWE3S chip on the front of the board.
Pinout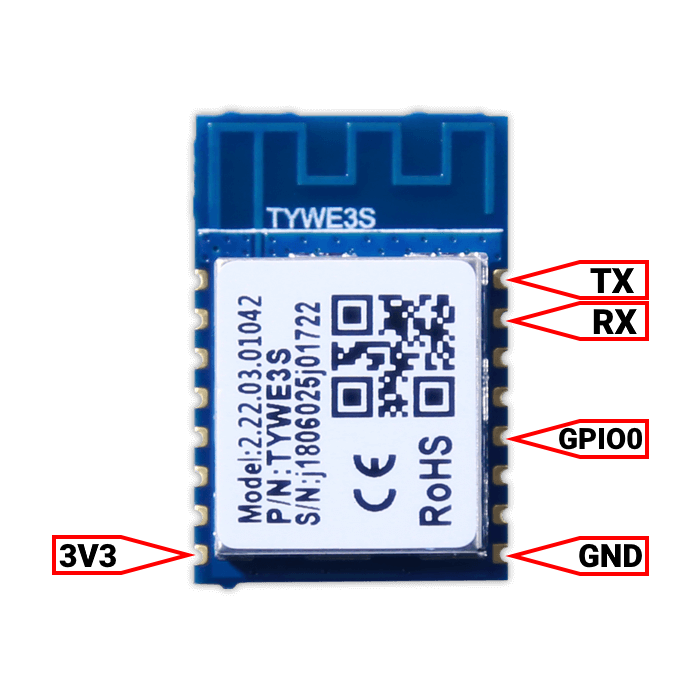 .