BNETA IoT Power Monitoring Plug (IO-WIFI-Plug-SA)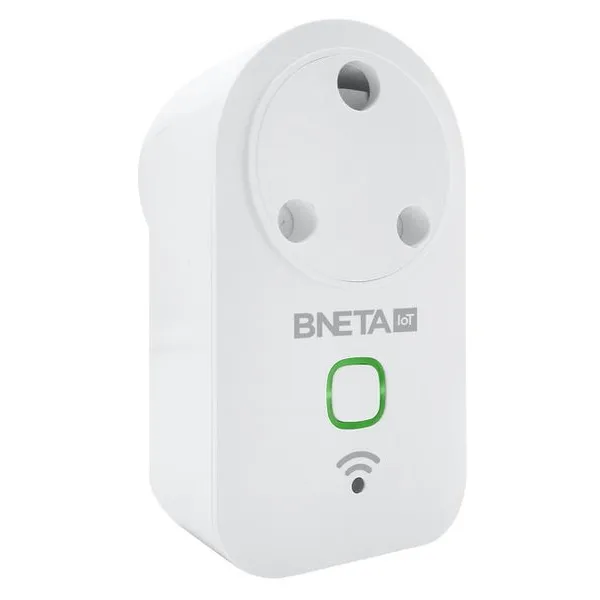 | GPIO # | Component |
| --- | --- |
| GPIO00 | Button1 |
| GPIO01 | Led1 |
| GPIO02 | None |
| GPIO03 | None |
| GPIO04 | HLW8012 CF |
| GPIO05 | HLWBL CF1 |
| GPIO09 | None |
| GPIO10 | None |
| GPIO12 | HLWBL SELi |
| GPIO13 | LedLink |
| GPIO14 | Relay1 |
| GPIO15 | None |
| GPIO16 | None |
| FLAG | None |
Configuration (old format, will be converted to new template when applied)
{"NAME":"BNETA WifiPlug","GPIO":[17,52,0,0,133,132,0,0,131,157,21,0,0],"FLAG":0,"BASE":18}
This device now comes with a Wi-Fi module incompatible with Tasmota
For more accurate energy consumption measurements this device requires
power monitoring calibration
.
WARNING:
New Tuya devices have replaced their Wi-Fi module with one incompatible with Tasmota!!!
Tuya-Convert might not be possible for this device since the template was added (2020-03-29).
Hardware Warning
As of 2021 new BNeta devices are equipped with the WB2S module making them incompatible with Tasmota.
Also found under Qualitel brand with same model number. BNETA & Qualitel plugs shipped in 2020 were internally identical (apart from the 180 degree rotation of the plug). Both used Tuya TYWE3S modules that were flashable with Tasmota. As of May 2021 Qualitel plugs are shipping with Tuya WB2S modules which are not ESP8266-based and hence not Tasmotisable.