BrilliantSmart 12W 290mm Salisbury CCT Ceiling Light (20812/05)
| GPIO # | Component |
| --- | --- |
| GPIO00 | None |
| GPIO01 | None |
| GPIO02 | None |
| GPIO03 | None |
| GPIO04 | None |
| GPIO05 | None |
| GPIO09 | None |
| GPIO10 | None |
| GPIO12 | PWM2i |
| GPIO13 | None |
| GPIO14 | PWM1 |
| GPIO15 | None |
| GPIO16 | None |
| FLAG | None |
Configuration (old format, will be converted to new template when applied)
{"NAME":"Brilliant Smart Salisbury","GPIO":[0,0,0,0,0,0,0,0,47,0,37,0,0],"FLAG":0,"BASE":18,"CMND":"SO92 1 | LedTable 0 | DimmerRange 4,100"}
WARNING:
New Tuya devices have replaced their Wi-Fi module with one incompatible with Tasmota!!!
Tuya-Convert might not be possible for this device since the template was added (2020-06-25).
NOTICE!!! Manufacturer has started using unsupported non-ESP8266 chips recently and this device might not be compatible anymore. Check seller descriptions or contact them before buying!
Applied with the template:
Backlog SetOption92 1; LedTable 0; DimmerRange 4,100

There are a few different sizes of this lamp - tested on the 12W 290mm version but should work the same for all.
Pinout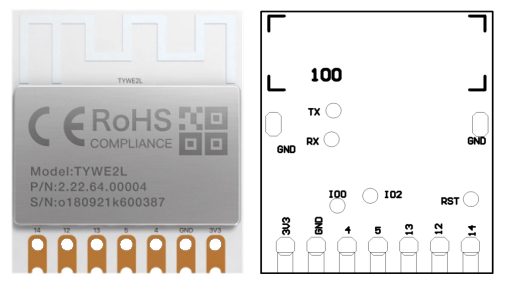 .