BrilliantSmart D350W Dimmer Module (20967)
| GPIO # | Component |
| --- | --- |
| GPIO00 | User |
| GPIO01 | Tuya Tx |
| GPIO02 | User |
| GPIO03 | Tuya Rx |
| GPIO04 | User |
| GPIO05 | User |
| GPIO09 | None |
| GPIO10 | None |
| GPIO12 | User |
| GPIO13 | None |
| GPIO14 | User |
| GPIO15 | None |
| GPIO16 | User |
| FLAG | None |
Configuration (old format, will be converted to new template when applied)
{"NAME":"D350W","GPIO":[255,107,255,108,255,255,0,0,255,0,255,0,255],"FLAG":0,"BASE":54}
NOTICE!!!
Manufacturer has started using unsupported non-ESP8266 chips recently and this device might not be compatible anymore. Check seller descriptions or contact them before buying!
The following mappings are required
TuyaMCU 11,1
TuyaMCU 21,2

and dimmer limits
DimmerRange 1,255

Worked fine with a 60 Watt resistive bulb. It meant to work with LED, but did flicker with a single 13 Watt load. Might meant a larger load.
Edit: Ordered 2x from Lighting Illusions (AU) in 08/2020 and both came with newer version of tuya firmware.
Attempted physical flash but GPIO-0 is not accessible due to the TYWE2S being sandwiched back to back with the adjacent PCB.
Destroyed both boards attempting to work around. Not recommended :(
Pinout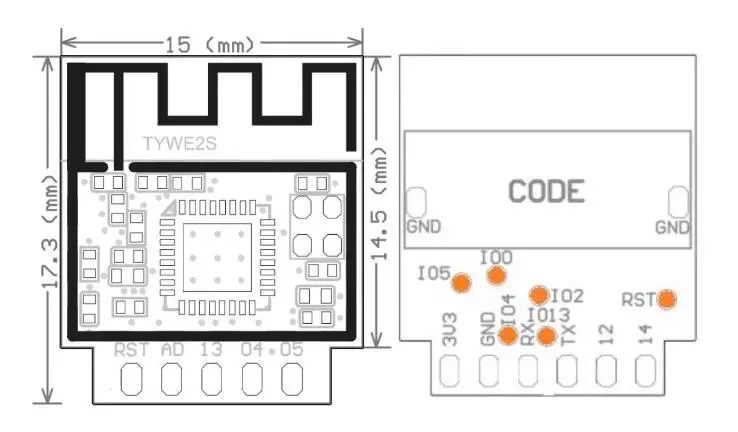 .