EZPlug+ V1 Power Monitoring Plug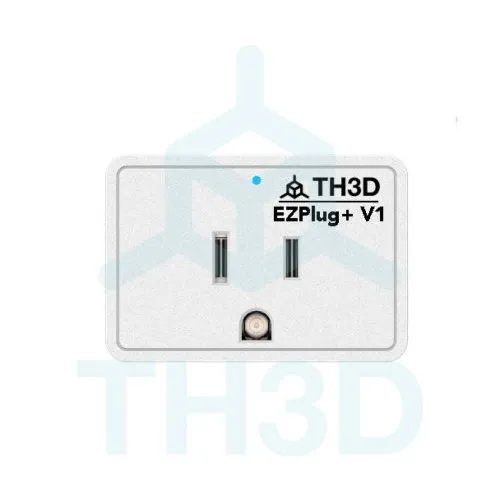 | GPIO # | Component |
| --- | --- |
| GPIO00 | None |
| GPIO01 | None |
| GPIO02 | None |
| GPIO03 | Button 1 |
| GPIO04 | BL0937 CF |
| GPIO05 | HLWBL CF1 |
| GPIO09 | None |
| GPIO10 | None |
| GPIO12 | HLWBL SELi |
| GPIO13 | Led_i 1 |
| GPIO14 | Relay 1 |
| GPIO15 | None |
| GPIO16 | None |
| GPIO17 | None |
{"NAME":"EZPlug+ V1","GPIO":[0,0,0,32,2720,2656,0,0,2624,320,224,0,0,0],"FLAG":0,"BASE":1}
Configuration (old format, will be converted to new template when applied)
{"NAME":"EZPlug+ V1","GPIO":[0,0,0,17,134,132,0,0,131,56,21,0,0],"FLAG":0,"BASE":1}
This device comes with Tasmota already installed!
For more accurate energy consumption measurements this device requires power monitoring calibration.


Pre-flashed with TH3D version of firmware. You can update over wifi to standard Tasmota.
Converting the EZPlug from TH3D Firmware to Tasmota:
Download the latest tasmota-minimal.bin and flash it from the GUI
Download the latest tasmota.bin and flash it from the GUI
Reset the EZPlug configuration to clear out the config to prevent errors
Use it with standard Tasmota!