Lanbon L8 5 in 1 LCD Touch Power Monitoring Display Switch (L8-HS)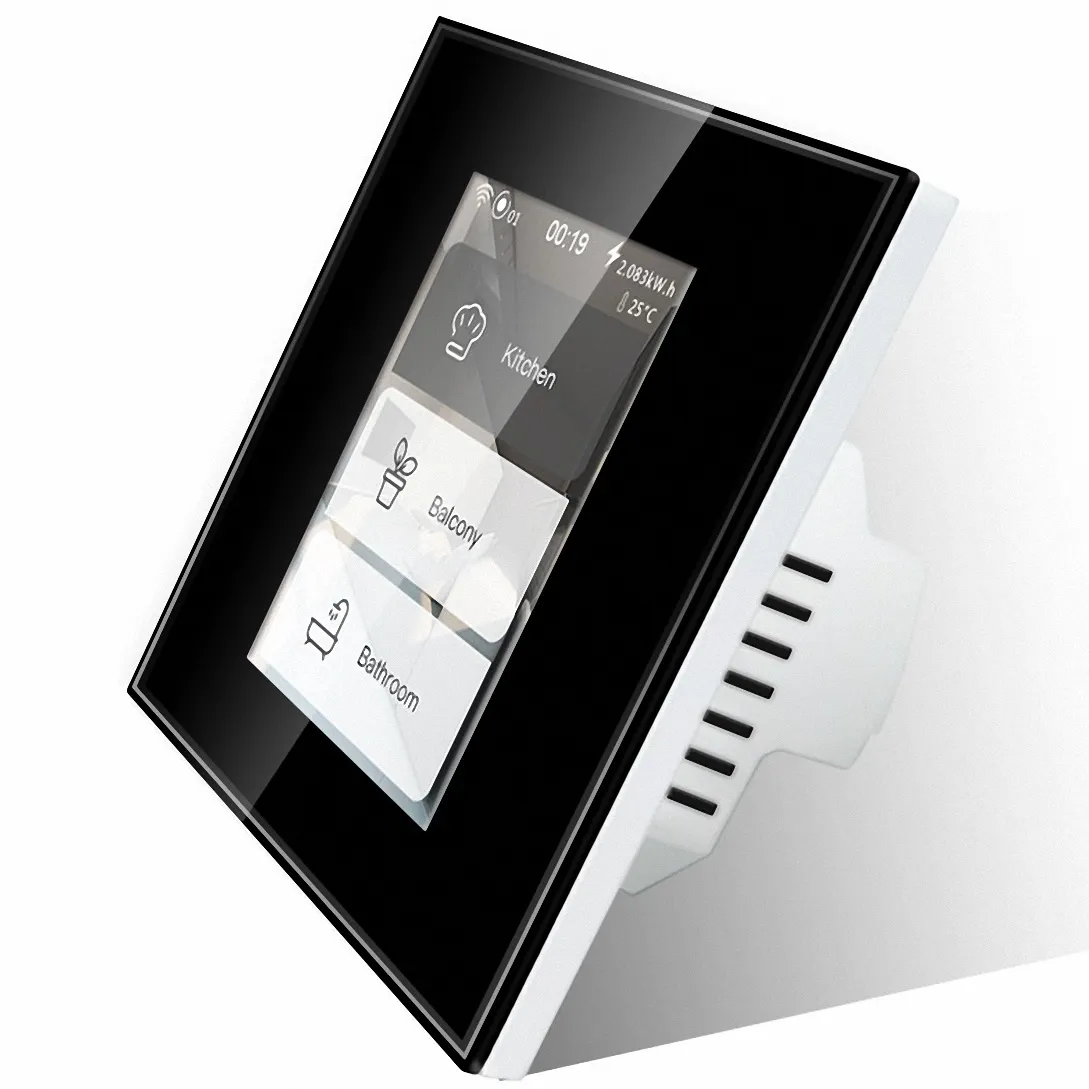 | GPIO # | Component |
| --- | --- |
| GPIO00 | I2C SCL 1 |
| GPIO01 | None |
| GPIO02 | None |
| GPIO03 | None |
| GPIO04 | I2C SDA 1 |
| GPIO05 | BkLight |
| GPIO09 | None |
| GPIO10 | None |
| GPIO12 | Relay 1 |
| GPIO13 | None |
| GPIO14 | Relay 2 |
| GPIO15 | None |
| GPIO16 | None |
| GPIO17 | None |
| GPIO18 | OLED Reset |
| GPIO19 | SPI CLK |
| GPIO20 | None |
| GPIO21 | SPI DC |
| GPIO22 | SPI CS |
| GPIO23 | SPI MOSI |
| GPIO24 | Option A3 |
| GPIO25 | SPI MISO |
| GPIO26 | PWM 1 |
| GPIO27 | Relay 3 |
| GPIO6 | None |
| GPIO7 | None |
| GPIO8 | None |
| GPIO11 | None |
| GPIO32 | PWM 2 |
| GPIO33 | PWM 3 |
| GPIO34 | None |
| GPIO35 | HLW8012 CF |
| GPIO36 | None |
| GPIO37 | None |
| GPIO38 | None |
| GPIO39 | None |
{"NAME":"Lanbon L8","GPIO":[608,0,0,0,640,992,0,0,224,0,225,0,0,0,1024,736,0,800,768,704,6210,672,416,226,0,0,0,0,417,418,0,2688,0,0,0,0],"FLAG":0,"BASE":1}

by blakadder
For more accurate energy consumption measurements this device requires
power monitoring calibration
.
Flashing
Flash using
Tasmota Web Installer
and select tasmota32-lvgl option.
For esptool.py download f.e.
tasmota32-lvgl.factory.bin
and run
esptool.py write_flash 0x0 tasmota32-lvgl.factory.bin
.
Auto-configuration
After flashing Tasmota, open the web UI of the device and navigate to
Configuration -> Auto-configuration
. Select your device from the drop-down and click
Apply Configuration
.
The device will restart and will be automagically configured.
Working:
Relays
Status LEDs
Screen
Touch
Power metering based on pulse counter (needs power calibration)
Not working:
Voltage and Current metering due to the HLW8012 CF1 & SEL not connected on mains pcb
Temperature measurement incorrect or not available on later pcb versions
Solderless Flashing
Solderless flashing instructions.
Download a compiled binary or use Tasmota development branch and set in user_config_override.h
#define USE_I2C
#define USE_DISPLAY
#define USE_SPI
#define USE_DISPLAY_ST7789
#define USE_TOUCH_BUTTONS
#define USE_FT5206
#undef USE_RULES                                
#define USE_SCRIPT                               
#define MAXBUTTONS 16
#define USE_LANBON_L8

Make sure to fully power cycle the device after applying the template.
Apply the template and issue
Backlog DisplayModel 12; DisplayRotate 0; DisplayWidth 240; DisplayHeight 320; DisplayFont 1; DisplayMode 0

Use this basic script to create touch buttons
>D
>B
dt [B1x50y10f2]Lanbon L8
dt [b0:20:60:200:60:10:16:1:3:Relay 1:]
dt [b1:20:140:200:60:10:16:1:3:Relay 2:]
dt [b2:20:220:200:60:10:16:1:3:Relay 3:]

Buttons are automatically assigned to relays.
You have to do further scripting to set behaviour of status LEDs, turn the screen off after a timeout and display more on the screen.