LilyGO T7 Mini32 V1.5 Development Board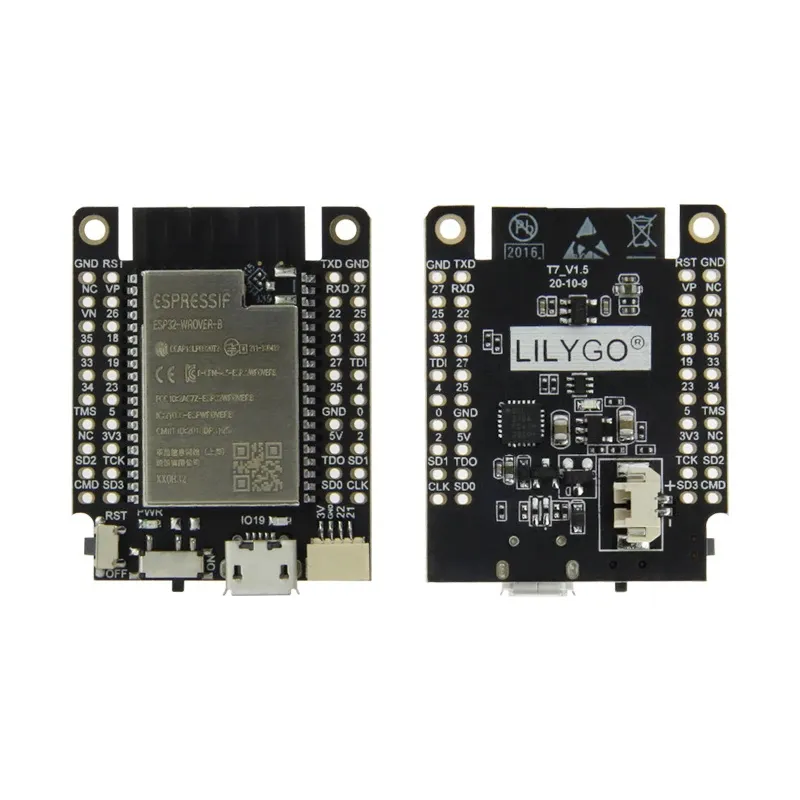 | GPIO # | Component |
| --- | --- |
| GPIO00 | User |
| GPIO01 | User |
| GPIO02 | User |
| GPIO03 | User |
| GPIO04 | User |
| GPIO05 | User |
| GPIO09 | None |
| GPIO10 | None |
| GPIO12 | None |
| GPIO13 | None |
| GPIO14 | None |
| GPIO15 | None |
| GPIO16 | None |
| GPIO17 | None |
| GPIO18 | User |
| GPIO19 | LedLink |
| GPIO20 | None |
| GPIO21 | None |
| GPIO22 | None |
| GPIO23 | User |
| GPIO24 | None |
| GPIO25 | User |
| GPIO26 | User |
| GPIO27 | User |
| GPIO6 | None |
| GPIO7 | None |
| GPIO8 | None |
| GPIO11 | None |
| GPIO32 | None |
| GPIO33 | User |
| GPIO34 | User |
| GPIO35 | ADC Input 1 |
| GPIO36 | User |
| GPIO37 | None |
| GPIO38 | None |
| GPIO39 | User |
{"NAME":"LilyGO T7 V1.5","GPIO":[1,1,1,1,1,1,0,0,0,0,0,0,0,0,1,544,0,0,0,1,0,1,1,1,0,0,0,0,0,1,1,4704,1,0,0,1],"FLAG":0,"BASE":1}
Use code LILYGO5 when buying from lilygo.cc for a 5% discount.
The board uses an older version of ESP32 chip that requires a binary wih the PSRAM fix compiled in.
Compile with platformio env including these flags:
-DBOARD_HAS_PSRAM 
-DHAS_PSRAM_FIX 
-mfix-esp32-psram-cache-issue 
-mfix-esp32-psram-cache-strategy=memw

Template maps the JST SH1.0 4 pin connector GPIO21 and GPIO22 to I2C.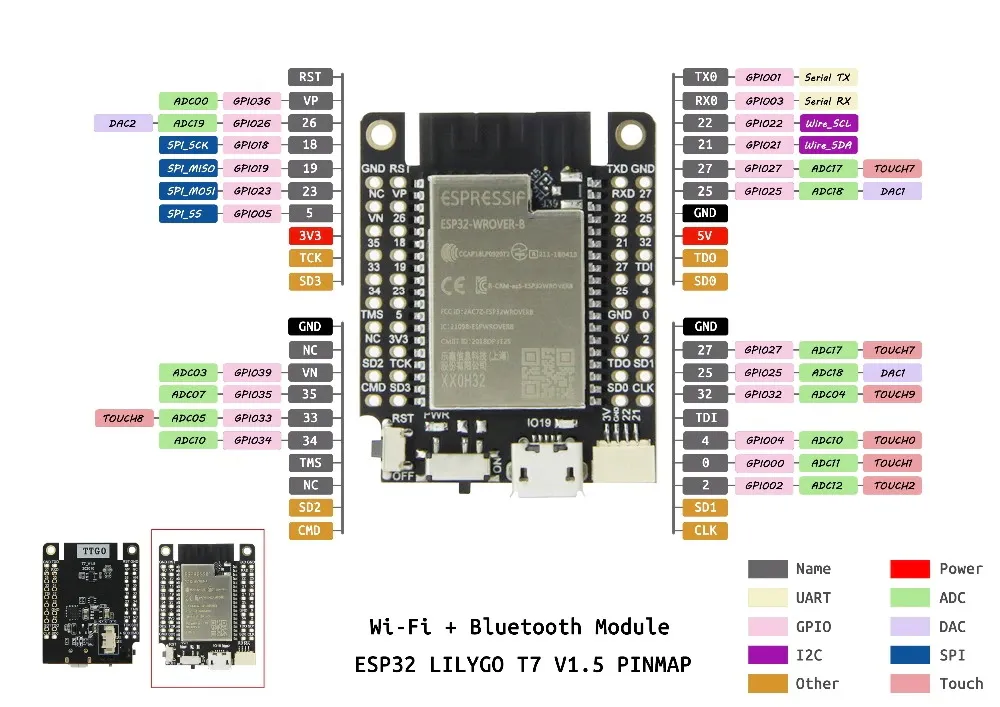 Note: The difference between T7 V1.4 and V1.5:
GPIO16 and GPIO17 are replaced with GPIO25 and GPIO27. Board remains compatible with D1 mini expansion boards.