Moes WS-EUY2 2 Gang Switch (SS86-AI)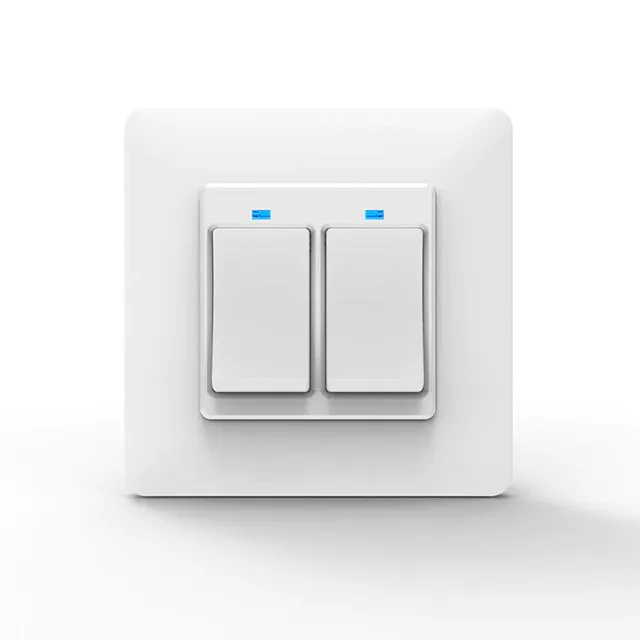 | GPIO # | Component |
| --- | --- |
| GPIO00 | LedLink |
| GPIO01 | None |
| GPIO02 | Led2 |
| GPIO03 | None |
| GPIO04 | None |
| GPIO05 | Button2 |
| GPIO09 | None |
| GPIO10 | None |
| GPIO12 | Button1 |
| GPIO13 | Relay1 |
| GPIO14 | None |
| GPIO15 | Relay2 |
| GPIO16 | Led1 |
| FLAG | None |
Configuration (old format, will be converted to new template when applied)
{"NAME":"WS-EUY2-W","GPIO":[157,0,53,0,0,18,0,0,17,21,0,22,52],"FLAG":0,"BASE":18}
Use code BLAKADDER when buying from moeshouse.com store for a 20% discount.
WARNING: New Tuya devices have replaced their Wi-Fi module with one incompatible with Tasmota!!!
Tuya-Convert might not be possible for this device since the template was added (2020-03-19).


Comes in white (WS-EUYx-W) and black (WS-EUYx-B) variants.
Can be paired with different WS-EU 1 gang, 2 gang or 3 gang switches or WWK-xxY wall outlets using additionally purchased 2 and 3 hole panels available from the same link.
Newer firmware does not flash with tuyaconvert any more, but the device is easy to disassemble and can be flashed by soldering wires to the chip.