| GPIO # | Component |
| --- | --- |
| GPIO00 | Button1 |
| GPIO01 | Tuya Tx |
| GPIO02 | None |
| GPIO03 | Tuya Rx |
| GPIO04 | None |
| GPIO05 | None |
| GPIO09 | None |
| GPIO10 | None |
| GPIO12 | None |
| GPIO13 | None |
| GPIO14 | Led1 |
| GPIO15 | None |
| GPIO16 | None |
| FLAG | None |
Configuration (old format, will be converted to new template when applied)
{"NAME":"RJWF-02A","GPIO":[17,107,0,108,0,0,0,0,0,0,52,0,0],"FLAG":0,"BASE":54,"CMND":"TuyaMCU 21,2|DimmerRange 0,250"}
Confirmed that is not possible to use Tuya-Convert on the version of these devices with a 2020-5-13 or newer manufacture date.
Serial flashing is possible by soldering directly onto the TYWE3S module. Follow these directions as a bridge is required to flash the TYWE3S in situ.
The template enables dimmer functionality using these required commands:
TuyaMCU 21,2

Set dimmer range:
DimmerRange 0,250

Pinout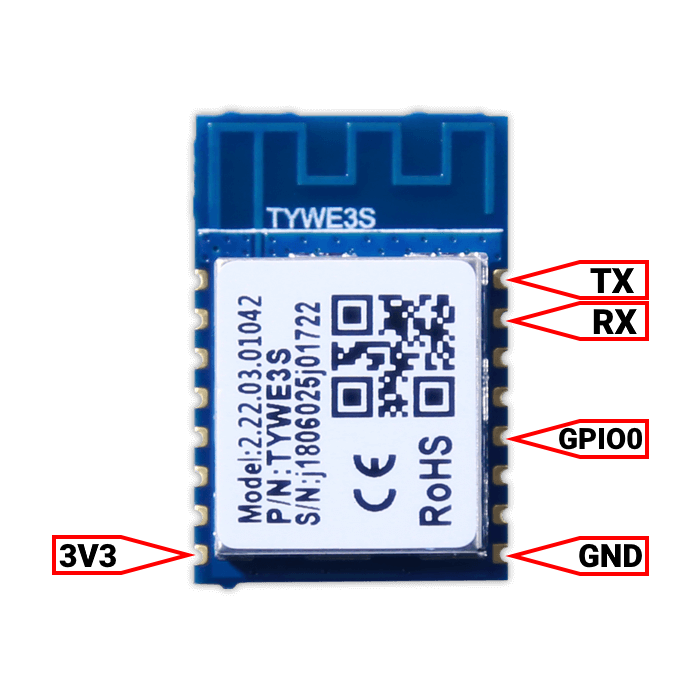 .