Sonoff 4CHPROR3 Switch Module (M08020100034)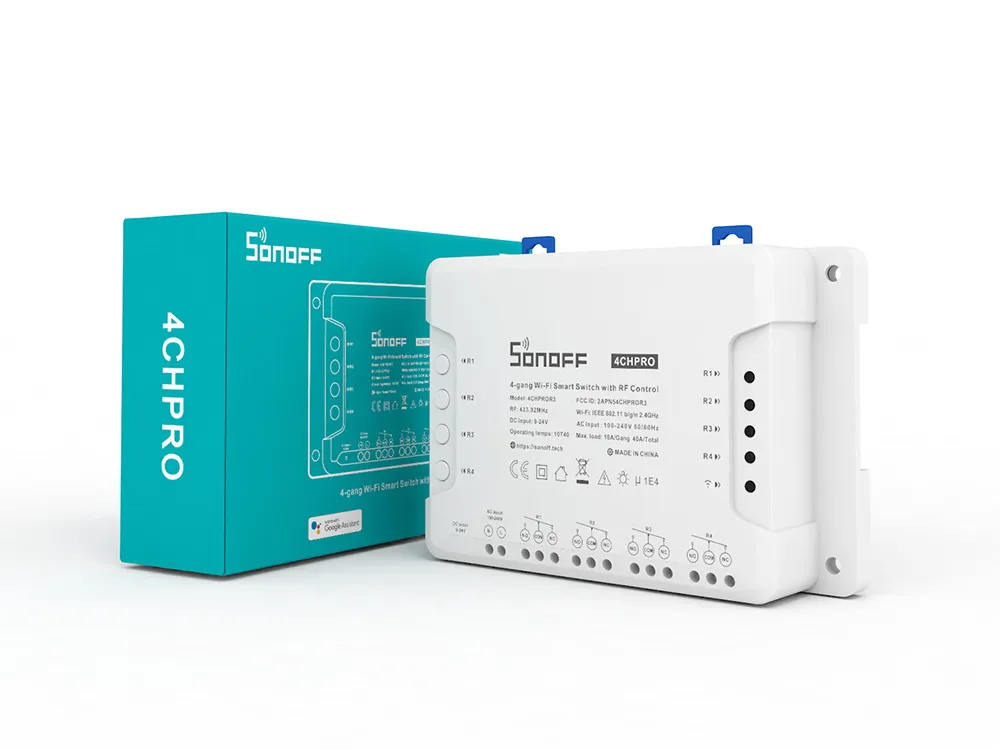 | GPIO # | Component |
| --- | --- |
| GPIO00 | Button1 |
| GPIO01 | User |
| GPIO02 | User |
| GPIO03 | User |
| GPIO04 | Relay3 |
| GPIO05 | Relay2 |
| GPIO09 | Button2 |
| GPIO10 | Button3 |
| GPIO12 | Relay1 |
| GPIO13 | Led1i |
| GPIO14 | Button4 |
| GPIO15 | Relay4 |
| GPIO16 | None |
| FLAG | None |
Configuration (old format, will be converted to new template when applied)
{"NAME":"Sonoff 4CHPROR3","GPIO":[17,255,255,255,23,22,18,19,21,56,20,24,0],"FLAG":0,"BASE":23}
Use code BLAKADDER when buying from itead.cc for a 10% discount.
Use code BLAKADDER23 when buying from mediarath.de Tasmota category and a minimum order value of 50€ for a 10% discount. The code is valid until end of 2023.


4CHPROR3 supports RF remotes independent from Tasmota, it is managed by a secondary MCU.
If you want to use the RF433 module, direct connect SYN470R output to SDA (GPIO2) and configure RF Receiver.
Flashing