Teckin SP22 Power Monitoring Plug
| GPIO # | Component |
| --- | --- |
| GPIO00 | None |
| GPIO01 | Button1 |
| GPIO02 | None |
| GPIO03 | Led2i |
| GPIO04 | BL0937 CF |
| GPIO05 | HLWBL CF1 |
| GPIO09 | None |
| GPIO10 | None |
| GPIO12 | HLWBL SELi |
| GPIO13 | Led1i |
| GPIO14 | Relay1 |
| GPIO15 | None |
| GPIO16 | None |
| FLAG | None |
Configuration (old format, will be converted to new template when applied)
{"NAME":"Teckin","GPIO":[0,17,0,57,134,132,0,0,131,56,21,0,0],"FLAG":0,"BASE":52}
For more accurate energy consumption measurements this device requires
power monitoring calibration
.
WARNING:
New Tuya devices have replaced their Wi-Fi module with one incompatible with Tasmota!!!
Tuya-Convert might not be possible for this device since the template was added ().
WARNING
There is a new version with a T102/WR2 WiFi module in it. This uses a RTL8710BN chip and can not be converted to Tasmota. Make sure that you get a plug with TYWE2S WiFi module based on ESP8266.
Serial Flashing
Guide from Tasmota Issues
Pinout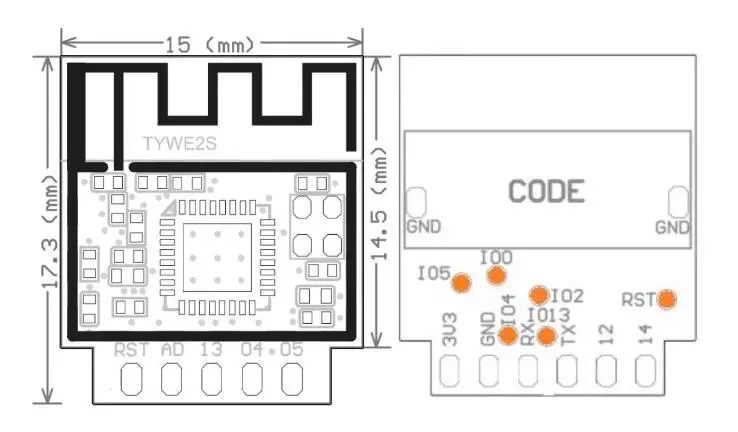 .