Wipro Smart Extension Power Strip (DSE1150)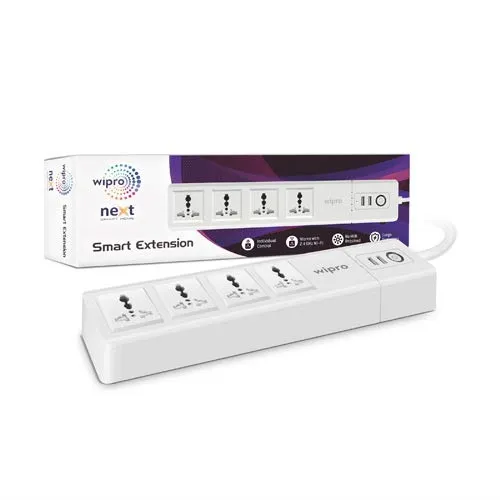 | GPIO # | Component |
| --- | --- |
| GPIO00 | Led2i |
| GPIO01 | None |
| GPIO02 | None |
| GPIO03 | None |
| GPIO04 | Relay4i |
| GPIO05 | None |
| GPIO09 | None |
| GPIO10 | None |
| GPIO12 | Relay2i |
| GPIO13 | Relay3i |
| GPIO14 | Relay1i |
| GPIO15 | None |
| GPIO16 | Relay5 |
| FLAG | None |
Configuration (old format, will be converted to new template when applied)
{"NAME":"Generic","GPIO":[57,0,0,0,32,0,0,0,30,31,29,0,25],"FLAG":0,"BASE":18}
WARNING:
New Tuya devices have replaced their Wi-Fi module with one incompatible with Tasmota!!!
Tuya-Convert might not be possible for this device since the template was added (2020-07-04).
The original manufacturer code for the device is SM-SO306, which seems to be made by SHENZHEN XENON INDUSTRIAL LTD. These are usually Tuya software devices, sold under different brand names and logos in various parts of the world. I flashed Tasmota using Tuya convert (OTA) on a Wipro branded strip. Some devices I have identified to have similar properties are also listed below (all found in Amazon India website).
Known in various names, such as SM-SO306-U2 / SM-SO306-UZ2, Xergy Smart Power Strip, Wipro Smart Extension (DSE1150 in India) or Nishica Smart Power Extension (SM-SO306-2A)