Zemismart 5W RGBW Bulb (ZM_5GU10)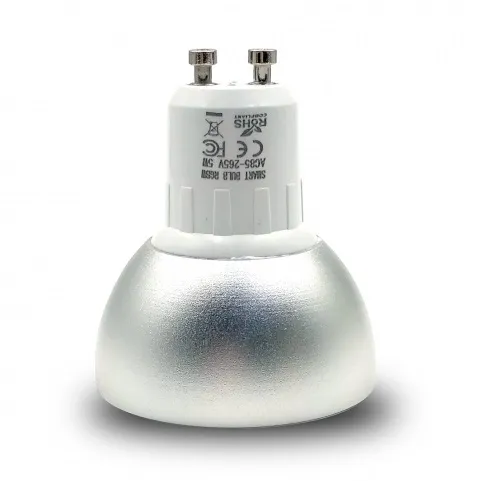 | GPIO # | Component |
| --- | --- |
| GPIO00 | None |
| GPIO01 | None |
| GPIO02 | None |
| GPIO03 | None |
| GPIO04 | None |
| GPIO05 | None |
| GPIO09 | None |
| GPIO10 | None |
| GPIO12 | None |
| GPIO13 | MY92x1 DI |
| GPIO14 | None |
| GPIO15 | MY92x1 DCKI |
| GPIO16 | None |
| FLAG | None |
Configuration (old format, will be converted to new template when applied)
{"NAME":"Zemismart_GU10","GPIO":[0,0,0,0,0,0,0,0,0,143,0,144,0],"FLAG":0,"BASE":27}
See
Tasmota documentation
on how to configure RGBW lights to your needs.
This bulb looks identical to, and has the same markings as the Generic GU10 5W 450lm RGBW Bulb listing, but it uses a MY92x1 driver rather than a PWM driver. It will not work if configured using PWM.
No longer works using tuya-convert.